Amityville Film Historian
Posts: 1998
Location: Toms River, NJ
Contact:
In the highlighted area: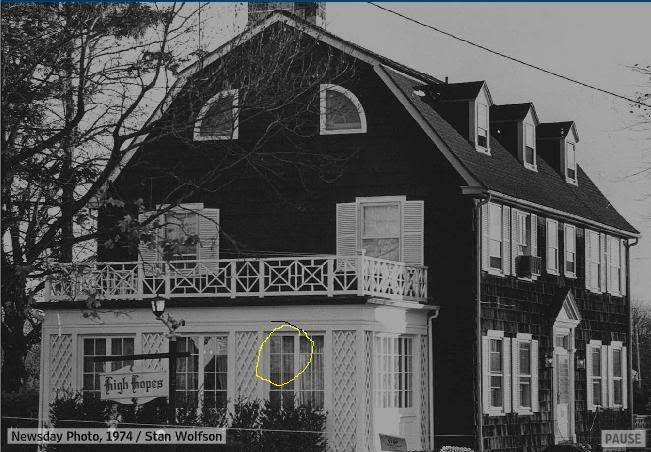 "Sometimes, it's not the house that's haunted. It's the People."-Self

For Info on Filming Details of the Amityville Horror Trilogy, please view http://amityvillefaq.com/truthboard/viewtopic.php?f=8&t=6594&start=210
---
---
Amityville Member
Posts: 25
Invert the color's on the 'fat man' and you will see three faces
from left to right
1.1/2 face blocked by #2
2 a v shaped face with features very similar to gray ufo alien.. but more human like
3 behind 2 a pig faced type face. "Jodie?" Very large compared to 1 and 2
Nightshade
---
Amityville Member
Posts: 1
Location: Ireland
Hi all, been looking at the photo for a while and to be honest I cannot really see the faces in the windows or rather see them as shadows. However, I flipped the photo upsidedown and saw what looks like the shape of a man just below the gutter to the left of the last two double windows with shutters above the front door.

Sorry, no idea how to add the image to this post.

K[/img]
---
---
American Psycho
Posts: 2840
Location: I Have To Return Some Videotapes
Bump
"The old man's still an artist with a Thompson."
---
Amityville Member
Posts: 52
---
Amityville Addict
Posts: 167
Whoaaaaa

That is a great find, Buick! Creepy as hell. Do you have the original uncropped photo zoomed out? I'm amazed I've never seen that before. That is definitely something
---
Amityville Addict
Posts: 512
Oh, because that just couldn't be a reflection of a tree or bush? Sorry but there's nothing to see here. If I look at my curtains in the moonlight I could probably see anything I wanted by just looking for something resembling a face.

It hurts me to say this but when I got into Amityville I was probably looking endlessly to find something to trick myself I believed in the supernatural but some of this is very poor.
"Everything's sliding into place. Just ONE more sacrifice Lisa."
---